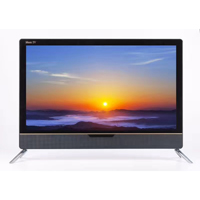 HIFI LED TV 24HLT1
Panel is new panel open-cell materials 12V
Main-board for All-in-Board,DVB/T/C/T2/S2,SMART,CI,CI+,DOBLY,ATSC,ISDB-T
Cabinet that plastic led cabinet,no LED no ELED TV
Power Board protected or no protected depends on the market
Remote Control middle sizes and ABS materials
Power Solutions:Direct power cable or Adapter Optional
Package optional brown box or color box
User Manual is English Neutral Design
Description
24″ HIFI LED TV  24HLT1
Product Specificaiton:
Size & Aspect Ratio:23.6″(16:9)
Panel: CMO/BOE/AUO/CSOT
Pixel Pitch:0.1165(H) X 0.3495(V)
Active area:409.8(H) X 230.4(V)
Max. Color:16.7M
Resolution:1366 x 768
Contrast Ratio:1000:1
Brightness:220cd/㎡
View Angle(CR≥10):178(H) X 170(V)
LED backlight life:100,000hours
Response Time(Typ):5ms
Video System:PAL/SECAM/NTSC
Sound System:B/G, D/K, I,L,L',M.N
Audio system:MTS, Spatial Stereo, Dynamic Bass
Sound output: 3W X2
All panels are A Grade(80%  3/3/5) new panel
Voltage: 100V-240v 50/60hz
OSD LANGUAGE:Multi language English/French/German/Spanish/Italian/Dutch/Portuguese
Interface:HDMI,USB,YPBPR,VGA,,HEADPHONE,TUNER,Digital(DVBT/C/T2/S2/ISDBT/ATSC)optional
Minimum order Qty (OEM):1×40″HQ
Loading Capacity 20″/40″/40″HQ:855pcs/1710pcs/2052pcs
UNIT/Carton Size:633*113*462MM
Net/Gross Weight:6kg/7kg
Consumption Standby: 1 watt
Operating: less than 45Watt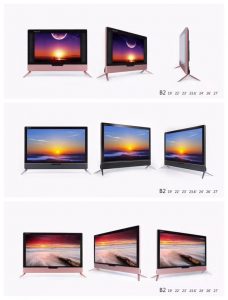 Maintenance& Safety
Safety Warning:
The inside key components in the LED TV must be offered and replaced by qualified and appointed manufacturer. Otherwise it may generate electric shocks, fires or other important unsafe cases. Don't try to change the circuits without authorized permission. Ensure to study the maintenance and service manual thoroughly before doing any of the maintaining actions.
High Voltage Warning:
Please be highly noted the high voltages in the circuit.
Electric Shocks and Fires Warning:
Connect the insulation transformer between the AC current and the LED TV before repairing the panel. Take care of the soldering pad related to the high voltage circuit. When short circuit case occurs, please replace the overheated components in time.
All protective equipments must be re-installed according to the original design.
Check the rosin joints, stack welds and the insulations, ensure there is no objection attached.
Antistatic Warning:
The inner circuit boards in the LED TV are sensitive to the statics. Please take care of the ESD protection when replace the circuit boards. The circuit boards must be packed by antistatic bags. Please wear anti static ring and gloves during repairing works.
Attention:
If the LED TV is in 5V, it must be switched to the setting of 5V. And if it is in12V, it must be switched to the setting of 12V.
Remarks: ELEDTV will provide the information as correct as possible. Product photos on this website may vary from the real products. Products information may vary from the products manual available in the market. 
Enquiry For
HIFI LED TV 24HLT1